Here are five of our favorite off-leash dog parks in or near the Denver Metro Area. We've taken into account size, facilities, accessibility, terrain, etc., and have come up with some amazing places for you to take your dog to this weekend. In no particular order:
Elk Meadow Open Space   
(32391 Stagecoach Boulevard, Evergreen, CO)
The park has two fenced-in areas and a number of open areas
There are gorgeous trees, trails, and freshwater streams for your four-legged friends to run around in
The park is actually green and grassy – not muddy and brown like some other dog parks
There is no entrance fee
Cons:
It's a bit of a drive
You'll fall in love and never want to leave!
(105th Avenue and Simms Street, Westminster, CO)
This dog park is enormous (over 400 acres!)
There are great views of the Rockies
It's absolutely FREE!
Cons:
With few trash cans, doggy messes can be a bother
There are no water fountains or spigots on the trails (so bring your own H2O!)
There is some debate as to whether or not the area is still radioactive (read more here)
Since the park is unfenced, only bring dogs that respond to vocal commands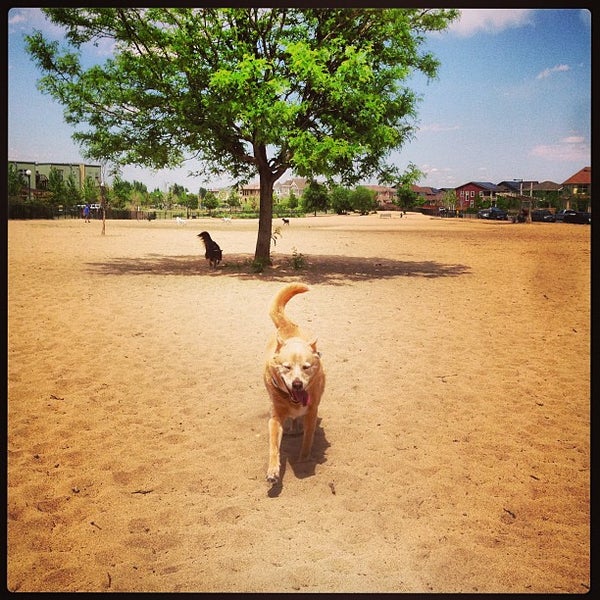 (2002 N. Spruce Street, Denver, CO)
This park is different – it's sandy, like a day at the beach (minus the ocean)! Definitely a top contender if you want Spot to get properly tired out
There are lots of water fountains to keep you and your pup hydrated
Like Elk Meadows and Westminster, Stapleton is FREE!
Since it's so easy to get to, your dog will have lots of friends to play with – good if you like socializing
Cons:
No kids under 12 allowed (although this could be considered a "pro" for some!)
You will continue to find sand in your car / shoes / clothes for hours after a visit
As this park can get a bit crowded, take care if your dog is shy / timid / aggressive
(4201 S. Parker Road, Aurora, CO)
This is another big park – approximately 125 acres
Lots of open fields, rivers with fresh water, and a sandy beach make for a great time for dogs and owners alike
Because the dog park is located within a state park, it's fantastically well-kept – bathrooms, paved roads, doggy bag stations, trashcans, etc.
Cons:

There is a small price for what has been lovingly dubbed "Doggy Disneyworld" by park-goers – a $9 park entrance fee plus $2 for the off-leash dog park (or $20 for a yearly pass – get more information here)
Due to its (well-deserved) popularity, the park can get a bit crowded, especially on weekends
(11500 N. Roxborough Park Road, Littleton, CO)
Chatfield is one of the bigger dog parks – it boasts an impressive 69 acres of varied terrain
Another state park, Chatfield is just as well-kept as Cherry Creek, meaning year-round restrooms, maintained paths and parking lots, and lots of trash cans and doggy bags
Cons:
There is an $8 park entrance fee, plus $2 for the off-leash dog park (or $20 for a yearly pass – more info here)
Chatfield is slightly out of the way for most Denverites, but totally worth the drive
Also deservedly popular, the park can get a bit crowded on the weekends
So there you have it! Five of our favorite off-leash dog parks in the Denver area. Just three last things to remember before you go running off to your nearest park – 1) remember to check yourself and your dog for ticks at the end of the day, 2) if Fido plays in a pond (stagnant water), give him an extra bath once you get home to protect him from any potential bacterial infection, and 3) HAVE FUN!